A hiker who became lost in mist-shrouded fells was saved after she used her BlackBerry to send rescuers a photograph of the surrounding landscape.
The woman had become disorientated in foggy weather on the picturesque seven-mile walk from Howtown to Glenridding in the Lake District.
Patterdale Mountain Rescue Team was scrambled to the scene after the hiker contacted the pier where she had left her car to tell attendants she would be late.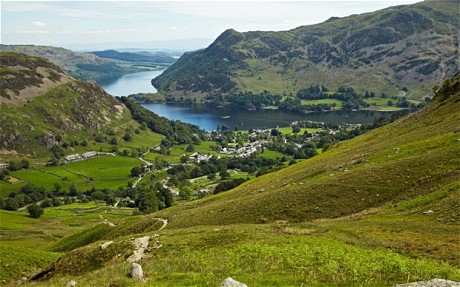 Michael Blakey, deputy team leader, said: "The lady had phoned the steamer pier at Howtown to tell staff she'd be late picking up her vehicle.
"It became obvious she was lost and they called the police, who contacted us."
But the woman, in her early 50s, was unable to give rescuers an idea of where she was.
Mr Blakey added: "We asked her to take a photograph of her surroundings on her phone and send it to us.
"We were really struggling to find her as she couldn't give a clear description of her location.
"But as soon as we got the picture through, we were able to pinpoint exactly where she was and it didn't take us long to rescue her.
"We had already dispatched two mountain rescuers onto the route she had taken, and they found her within 90 minutes."
The woman, from Hertfordshire, was discovered sitting on a path and was said to be relieved when found by rescuers.
She was escorted off the fell and back to the rescue team centre after the ordeal.
It is not the first time someone has used a mobile phone to send a photograph of their location to the emergency services.
In June, Wasdale Mountain Rescue Team was able to find a man who had fallen at Broad Crag, near Scafell Pike, in the Lake District.
Two men, in their late 20s, had been walking along a path when one tumbled 25 metres down onto rocks, suffering head and arm injuries.
The injured man's companion had no maps and was unable to describe his location when he called emergency services.
But after he sent a photograph of their surroundings from a mobile to mountain rescuers, the pair was located.
The man who had fallen had to be winched to safety by an RAF Sea King helicopter.
Mr Blakey added: "We urge hikers to have a map, compass and suitable clothing for the weather conditions when venturing out onto the fells.
"We also want to make clear that walkers shouldn't rely on their mobile phones to help them while they are hiking.
"It is not possible to get a mobile phone signal in many areas of the Lake District and batteries often run out of charge."