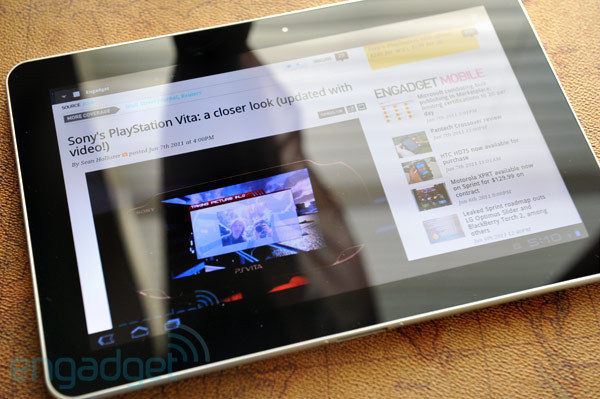 A German court has weighed in on Apple's seemingly
interminable
patent
battle
against Samsung, and it isn't looking good for Galaxy Tab users. In a ruling issued today, a Düsseldorf Higher Regional Court upheld last month's
preliminary injunction
, banning the sale of the
Galaxy Tab 10.1
within Germany.
Citing the slate's "minimalist, modern form," presiding judge Johanna Brueckner-Hoffmann determined that Samsung's tablet bears a "clear impression of similarity" with the iPad 2, thereby meriting a nationwide ban. "The court is of the opinion that Apple's minimalistic design isn't the only technical solution to make a tablet computer," Brueckner-Hoffmann explained, "other designs are possible." Earlier this week, as you may recall, Apple won a separate
injunction
against the
Galaxy Tab 7.7
in Düsseldorf, though Samsung can still appeal that decision in a lower court.
The court stopped short, however, of calling for an EU-wide injunction against the 10.1-inch slate, arguing that "it could only be competent to order a Europe-wide ban for a firm headquartered outside the European Union if this firm has a German subsidiary." Samsung, meanwhile, plans to appeal the ruling in a higher court, with a company spokesman issuing a now all-too familiar statement: "We are disappointed with this ruling and believe it severely limits consumer choice in Germany."