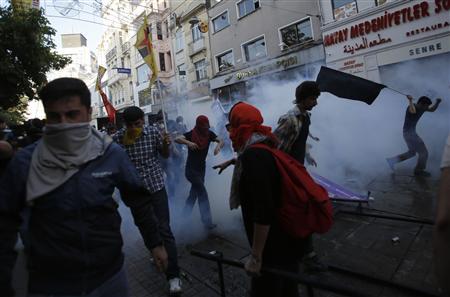 ISTANBUL/ANKARA, June 2 (Reuters) -
Tens of thousands of people took to the streets in Turkey's four biggest cities on Sunday and clashed with riot police firing tear gas on the third day of the fiercest anti-government demonstrations in years.
The din of car horns and residents banging pots and pans from balconies in support of the protests resonated across neighbourhoods in Istanbul and Ankara late into the night, as hundreds of demonstrators skirmished with riot police.
Roads around Prime Minister Tayyip Erdogan's office in Istanbul were sealed off as police fired tear gas to push back protesters, and police raided a shopping complex in the centre of the capital Ankara where they believed demonstrators were sheltering, detaining several hundred.
Erdogan blamed the main secular opposition party for inciting the crowds, whom he called "a few looters", and said the protests were aimed at depriving his ruling AK Party of votes as elections begin next year.
Interior Minister Muammer Guler said there had been more than 200 demonstrations in 67 cities around the country, according to the Hurriyet newspaper.
The unrest erupted on Friday when trees were torn down at a park in Istanbul's main Taksim Square under government plans to redevelop the area, but widened into a broad show of defiance against the Islamist-rooted Justice and Development Party (AKP).
Erdogan said the plans to remake the square, long an iconic rallying point for mass demonstrations, would go ahead, including the construction of a new mosque and the rebuilding of a replica Ottoman-era barracks.
He said the protests had nothing to do with the plans.
"It's entirely ideological," he said in an interview broadcast on Turkish television.
"The main opposition party which is making resistance calls on every street is provoking these protests ... This is about my ruling party, myself and the looming municipal elections in Istanbul and efforts to make the AK Party lose votes here."
Turkey is due to hold local and presidential elections next year in which Erdogan is expected to stand, followed by parliamentary polls in 2015.
The main opposition Republican People's Party (CHP) denied orchestrating the unrest, blaming Erdogan's policies.
"Today the people on the street across Turkey are not exclusively from the CHP, but from all ideologies and from all parties," senior party member Mehmet Akif Hamzacebi said.
"What Erdogan has to do is not to blame CHP but draw the necessary lessons from what happened," he told Reuters.

Source:
http://www.huffingtonpost.com/2013/0...n_3375888.html