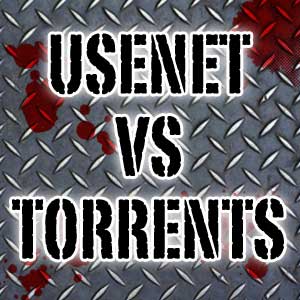 The big discussion about strengths and weaknesses of Bittorrent toward Usenet already takes place for longer time. Both technologies are very popular and have huge fans community. Nonetheless both networks have advantages and disadvantages if you take a closer look at it.
Pricing

Price is surely one of the important factors while we compare Bittorrent and Usenet networks. Downloading files through torrents is completely free. We personally advice to use paid VPN service to protect yourself from any problems while downloading different types of files. Generally, a VPN account would not cost more than $10 per month.
Downloading of binary file from Usenet network is not free. A user would need a software (Usenet client - Newsreader, mostly free) and paid NNTP account that will provide him with access to Usenet servers. The prices for NNTP access depend on many factors like SSL encryption, download speed and volume, simultaneously connections amount and others. Generally you can get a good service for about $10 per month.
Download speed
The main advantage of Usenet is that it's much faster as torrents. The reason for this is that you do not need to find seeds and connect to the peers, you download directly from servers with defined and paid speed. Using torrents this speed can be achieved only if the file is very popular and has much users who share it.
The disadvantage of Usenet is that the speed is always limited by provider. In some cases torrents would be even faster. Because of raising amount of DMCA abuses towards Usenet companies many files will be deleted from the servers and made unavailable for download. Although Usenet is not censored network many files will be eliminated and can not be downloaded anymore till users upload it again.
Content Volume
The main markets of Usenet are USA, Australia and some European countries. This leads to the fact that the most files in this network are english languaged. To upload file into Usenet is much more difficult as to share it through torrents. It takes time, special knowlegde and software to post a Usenet article with binary attachments. Not many people wish to spend their time into uploading of files. If we take a russian market then we will see that torrnets are very popular there and Usenet not. The reason is that there almost no russian files uploaded to Usenet. As conclusion we can say that torrent network provides much more data choise.
Required software
Usenet requires a download client called Newsreader. Also Bittorrent protocol would need a client like uTorrent to be able to download content. There exist different types of Newsreaders: some have already integrated NNTP access, some need a configuration of NNTP account to establish connection between Usenet server and personal computer. Torrent clients are already pre-configured and generally do not require any special configuration.
Security
The common Usenet providers already offer an integrated 256-bit encryption to protect the customer. Torrent network doesn't provide possibility to encrypt the transfer of files between peers. A user will need to pay for VPN service to protect himself while downloading.
Usenet technique
Usenet is built as a news network where everyone can post an article to one or more newsgroups. Today it's possible to attach binary files to the article and it can be downloaded by other users. It works similar to Email client. Big files will be divided into smaller parts and packed as RAR archives. Additionally PAR2 files will be created and uploaded too. These files will be needed to repair the archive if there any errors occur while transfering of RAR files to the Usenet servers.
Summary
Users can argue much which network is better. In reality Usenet and Bittorrent have advantages and disadvantages, so our opinion is that the best way to get a good file is to be familiar with both. If the file can be downloaded faster using Bittorrent then use it, if the file has a lower peers amount then try to get it through Usenet.
We like both networks and think that both are a very useful technology developed by very wise people.
Source:
http://torrentus.to/blog/torrents-vs...-compared.html