I have to admit that when it comes down to military grade hardware I never cease to be impressed, Galleon's Ultra Small Rugged NAS being one of those devices that really leave me wondering what will they come up with next, as this seems to be the ultimate NAS server solution available out there.
But what is so surprising about this thing you ask?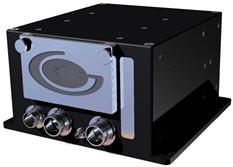 Well, for starters we get all the usual military certifications that basically say this can withstand almost anything you can throw, as it can work in temperature ranging from -40°C to +85°C as well as in high vibration environments as those found on the battle field.
But this is just the icing on the cake as Galleon has somehow managed to cram inside this compact 150x170x100 mm NAS offering, a powerful Intel Core i7
processor
to provide database and network storage services with up to five 1000base-T Ethernet ports.
And if all that bandwidth is still not enough for you, you would be happy to know this is also available with dual 10G optical Ethernet connections.
Furthermore, this
compact NAS
unit can be configured with up to four 2.5 inch solid state drives raising the maximum storage capacity to 10TB (from the standard 2TB), Galleon's offering fully supporting
RAID 0/1/5 modes
, AES encryption as well as a wide range of file systems, from ext3 to NTFS.
"The new series of Ultra Small Rugged NAS products offers unprecedented storage capacity and flexibility in a very small form factor, enabling rugged deployment of flexible high capacity storage" says Terje Melsom, CTO at Galleon Embedded Computing.
"Optimized for Size, Weight and Power (SWaP), the unit is ideal for applications requiring cost effective solutions for centralized high density storage in harsh environments, such as vehicles and small manned or unmanned aerial vehicles."