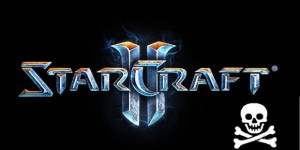 A report from TorrentFreak cites, amongst other statistics, the fact that the torrent file for the real time strategy Starcraft 2: The Wings of Liberty has been downloaded more than 2.3 million times since the game has been released in July of this year, leading to a total of 15.77 Petabytes of data downloaded.
This makes the game the most pirated so far this year, although by the end of the year
Call of Duty: Black Ops
, which has been recently released for the Xbox 360, the PlayStation 3 and the PC, could take the number one condition based on the interest players have shown since day, picking up more than 5 million legitimate copies in the first day on sale to make the most successful video game launch.
The number of pirated copies of Starcraft 2 moved through torrent files might seem big but the game still managed to sell more than 3 million legitimate copies, through retail and through digital means, when Blizzard reported on it at the end of September.
This suggests that piracy might not be a hindrance to the success of a truly well developed video game, as suggested by most publishers.
Of course, torrents are not the only way to get pirated gaming content, which might mean that there are more players playing the pirated version of
Starcraft 2
than gamers who bought the latest game in the very successful Blizzard series.
Blizzard said that it hoped the new implementation of Battle.net would reduce piracy, with one vice president, Michael Ryder, saying "what also goes hand-in-hand with the Battle.net solution is that we work really hard to offer a tailored, regional business model, so it reduces the incentives to go to a pirated solution."
Publishers like Ubisoft and Electronic Arts have tried to introduce measures like the Online Pass and fees for multiplayer in order to discourage piracy and used game sales.