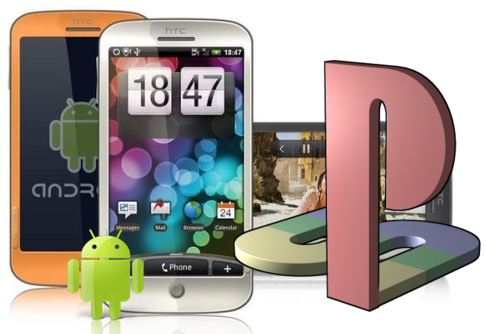 Earlier this week I reviewed NESoid, a tidy little Android app that lets you play the vast library of NES games on your smartphone. It's no surprise that my 600MHz smartphone can emulate the NES's 8-bit 1.8MHz (really!) processor -- but boy was I shocked when I installed PSX4droid and found I could (almost) play Final Fantasy VII on my phone.
Note:
just like the NES emulator, it's almost pointless to play PlayStation games on a phone without multi-touch capabilities. PSX4android will
work
on your Android 1.6 phone, but don't try to
play
anything more complicated than Tetris clones.
First things first,
PSX4droid isn't a free app:
it costs
$5.99
on the Android Market. That said, given how gaming experience will vary wildly depending on what phone you own, I would recommend you
torrent
PSX4droid first before spending money on something that might not work. There's also a non-exhaustive list of compatible phones that you can check beforehand. In general, if you have one of the newer 1GHz+ Android 2.0-or-later smartphones, PSX4droid should work.
Update:
you can also buy something from the Android Market and get a full refund within 24 hours -- so you can do that instead.
OK, now on with the actual review!
Getting PSX4droid to run is a lot harder than other emulators out there. It isn't simply a matter of installing the app and grabbing a few ROMs. Even if you
buy
PSX4droid, it won't work out of the box: you need to get a PlayStation BIOS BIN file first. Search the Web for '
scph1001.bin
'. Transfer the file it to your phone's SD card. (If you need help, there's a walkthrough at the end of Android Tapp's review.)
Then you need to find some game ROMs! Unlike NES and Sega games, PlayStation games are pretty big (the size of a CD!) This means that ROM sites don't tend to host the files themselves, so to find PlayStation ROMs you're going to have to trawl through MegaUpload, RapidShare and lots of ad-ridden pages to find your games. Couple in the fact that not every game works on the emulator, and you can see how playing PlayStation games on your Android might be more effort than it's worth. Still, if you want to push ahead, here are some good ROM sites:
Once you have a ROM or two, transfer them to your phone's SD card. You are finally ready to play some games! Note in the screenshot below that I have to
set the PSX BIOS file to the 'scph1001.bin'
file that I transferred to my phone.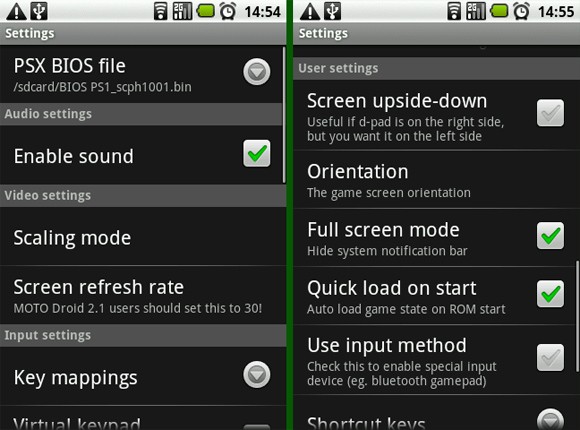 I won't lie to you, the gaming experience really isn't great -- at least on my Android 1.6 phone. With a newer HTC or Motorola smartphone (one with a hardware keyboard!) it might be better, but I bet it still pales in comparison to the real thing. On my phone the graphics were OK (around 10-15 FPS), but the audio sucked (very crackly) -- probably because the 3D graphics were sucking up all available processing power.
There are two special input methods worth checking out: the Nintendo Wiimote (or indeed any Bluetooth gamepad), and the capability of using the phone's internal 'tilt' sensor. You can push 'up' on the on-screen gamepad while tilting your phone to the left, and your character moves diagonally! The Bluetooth input method is much more exciting -- you get the Wiimote's complete functionality! -- but it seems to require Android 2.0, and even then it doesn't work on HTC phones.
With all that said, I actually managed to play through the first few combat sequences in Final Fantasy VII. PSX4droid might not be as
smooth
as the NES or Sega emulators, but given a year or two and 3GHz processors in our mobile phones, the Nintendo DS and Sony PSP might seem a little redundant.
PSX4droid Tech Specs

Installed Size -- 1.35MB, but PlayStation ROMs vary from hundreds of megabytes to a couple of gigabytes (Final Fantasy!)
Speed/Responsiveness -- Interface-wise, fine. Actual game experience will vary wildly depending on what phone you have (tested with Android 1.6 @ 600MHz, LG GT 540 Swift)
User Interface -- I still can't really fathom why anyone would use a flat, on-screen display for playing games. Give me BUTTONS!
Configurability & Extensibility -- Lots and lots of options, from how games are displayed through to shortcut keys and the placement of the on-screen gamepad
License -- Commercial, costs $5.99