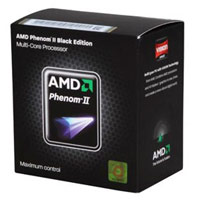 With the imminent release of new desktop CPUs, including the
new FX and A series
, AMD is taking the inevitable step of slashing the pricing on its existing processors to clear out inventory. If you want a bargain on a slightly older CPU, now may be the time to strike.
According to Fudzilla
, the biggest price reductions appear to be targeted at energy-efficient chips like the Athlon II X4 605e, which goes from $122 to $98, and the Phenom II X4 905e, now costing $100 instead of $165. In general, Athlon II prices fell between 2 percent and 25 percent.
Even performance processors like the Phenom Black Editions, geared to overclockers, will be dropping by around 10 percent. And the current fastest AMD has to offer, the Phenom II X6 1100T Black Edition six-core CPU, is going from $239 to $205.
Now AMD fanboys have a tough choice: snatch up these bargains or save up for the latest and greatest. What will you do? Let us know in the Comments section.