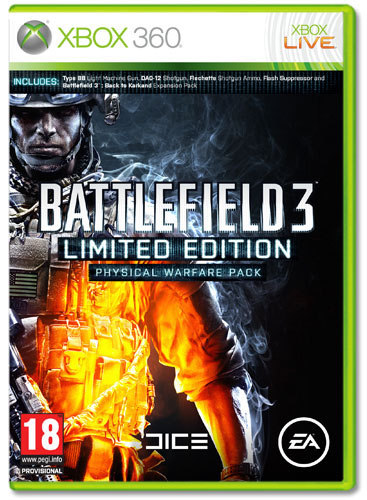 EA bringing weapons and items pack to retailers this fall; bundle includes Back to Karkand pack, DAO-12 shotgun, SKS sniper rifle flash suppressor.
Though Electronic Arts has yet to officially affix a release date to its upcoming first-person shooter Battlefield 3, that hasn't stopped the publisher from announcing preorder incentives for it. Today EA announced the Battlefield 3: Limited Edition Physical Warfare Pack, a bundle filled with weaponry and items.
The Physical Warfare Pack is available for preorder today for the Xbox 360, PlayStation 3, and PC exclusively at retailers GAME and GameStation in the UK. As for the pack, the Physical Warfare edition bundles a range of weaponry and items, including the Type 88 light machine gun with bipod for "superior firepower and total zone control."
Also in the pack is the SKS sniper rifle flash suppressor, which "provides increased stealth abilities." The last two items in the bundle are the DAO-12 semiautomatic shotgun and armor-penetrating ammo for it.
In addition to the weapons and items bundled with the Physical Warfare pack, EA today noted that the
Back to Karkand expansion
will be included in the limited edition SKU. The expansion features multiplayer environments from the PC-exclusive Battlefield 2-like Strike at Karkand, Gulf of Oman, and the Sharqi Peninsula, all updated for the Frostbite 2 engine.
EA has not said if the Physical Warfare pack will see release in North America, and as of press time, EA has not responded to GameSpot's request for comment or clarification on the matter.
For more on the newest Battlefield game, check out
GameSpot's latest preview of Battlefield 3
.