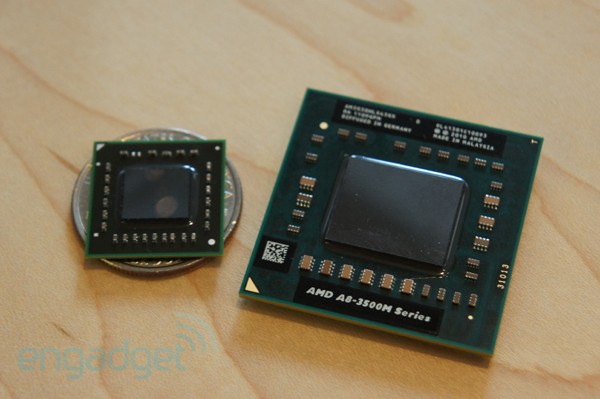 AMD's
Llano
platform has been on our radar for
more than
two years
, and finally, the company has come clean with its latest class of hybrid CPU / GPU chips, officially dubbed the Fusion A-Series. Unlike the low-power flavor of Fusion accelerated processing units
already on the market
, these 32-nanometer APUs were designed with desktops and mainstream laptops in mind,
taking direct aim
at Intel's Core 2011 processors with the promise of superior processing and discrete-level graphics, and 10-plus hours of battery life.
Aside from the assorted performance and battery life claims the company is making (much more on that in a moment), what this means is that as far as laptops go, AMD is completely stepping away from the standalone-CPU-plus-GPU paradigm. But, the company will still make dedicated Radeon cards, which can be coupled with an APU for a 75 percent boost in graphics performance -- a setup AMD is calling "Dual Graphics." All told, these chips measure just 228 square millimeters. To put this in context, check out the gallery of hands-on shots below, featuring the A-series next to a standalone CPU, discrete graphics card, and, for the sake of scale, the kind of low-power Fusion chip
introduced
back at CES.
A-Series-equipped PCs are
already shipping
, and AMD says we can expect to see at least 150 of them this year. That sounds promising indeed, but we've still got lots of technical details to rehash. Head on past the break for the full spill on what these APUs pledge to do, along with a video of AMD senior product marketing manager Raymond Dumbeck showing off some A-series laptops in action.
The A-Series includes seven laptop APUs across three families, and offers up to 4MB of cache, and clock speeds as high as 1.9GHz in the dual-core A4 chips -- up to 2.5 GHz if you take into account AMD's Turbo Core technology. These chips are also stereoscopic 3D-capable, and support USB 3.0,
DirectX 11
, OpenCL / OpenGL, AMD Wireless Display, and both 1600MHz DDR3 and low-power 1333MHz DDR3L memory.
Like we said, AMD isn't shying away from direct comparisons with Intel's Sandy Bridge CPUs. The APUs promise more than ten and a half hours of resting battery life with the help of
power gating
, and AMD makes the pointed claim that its quad-core A8-3510MX APU can last more than three and a half hours longer than a dual-core Core i5-2410M processor. And the explicit one-upmanship doesn't end there. AMD also says that its dual-core A4 chips will compete with Core i3 CPUs, with the quad-core A6 going after i3 and i5, and the quad-core A8 taking on i5 and i7. Systems with the A4, A6, and A8 chips are expected to start around $499,
$599
, and $699, respectively.
Graphics-wise, the A-Series has up to 400 shader cores, depending on the model, and ushers in two additions to AMD's Vision Engine: AMD Perfect Picture HD, which cleans up 1080p video post-processing, and AMD Steady Video, which compensates for camera shake in movies. As you can imagine, we're impatiently waiting to get our first A-Series laptop in to review so that we can test all these claims, but until then, get your fill of details with the chart, PR.
| | | | | | |
| --- | --- | --- | --- | --- | --- |
| Model | x86 cores | L2 cache | Shader cores | Clock speed (base/max) | GPU clock speed |
| A4-3300M | Dual-core | 2MB | 240 | 1.9GHz/2.5GHz | 444MHz |
| A4-3310MX | Dual-core | 2MB | 240 | 2.1GHz/2.5GHz | 444MHz |
| A6-3400M | Quad-core | 4MB | 320 | 1.4GHz/2.3GHz | 400MHz |
| A6-3410MX | Quad-core | 4MB | 320 | 1.6GHz/2.3GHz | 400MHz |
| A8-3500M | Quad-core | 4MB | 400 | 1.5GHz/2.4GHz | 444MHz |
| A8-3510MX | Quad-core | 4MB | 400 | 1.8GHz/2.5GHz | 444MHz |
| A8-3530MX | Quad-core | 4MB | 400 | 1.9GHz/2.6GHz | 444MHz |
| | | | |
| --- | --- | --- | --- |
| Model | Radeon graphics | TDP | Max DDR3/DDR3L |
| A4-3300M | HD 6480G | 35W | 1333MHz/1333MHZ |
| A4-3310MX | HD 6480G | 45W | 1333MHz/1333MHZ |
| A6-3400M | HD 6520G | 35W | 1333MHz/1333MHZ |
| A6-3410MX | HD 6520G | 45W | 1600MHz/1333MHz |
| A8-3500M | HD 6620G | 35W | 1333MHz/1333MHZ |
| A8-3510MX | HD 6620G | 45W | 1600MHz/1333MHz |
| A8-3530MX | HD 6620G | 45W | 1600MHz/1333MHz |