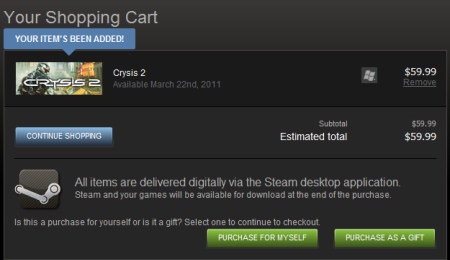 Yesterday,
news broke
that
Crysis 2
had been pulled from Steam, supposedly by EA, in order to turn it into an Origin Store exclusive. Today, EA are claiming that far from them yanking the game, it was Valve who kicked the game off their service, for violating Steam's "business terms".
Hrmm.

"It's unfortunate that Steam has removed Crysis II from their service. This was not an EA decision or the result of any action by EA," reads the official statement from the company. "Steam has imposed a set of business terms for developers hoping to sell content on that service – many of which are not imposed by other online game services. Unfortunately, Crytek has an agreement with another download service which violates the new rules from Steam and resulted in its expulsion of Crysis II from Steam."

The statement goes on to point out that Crysis 2 is still available online from a number of digital distribution outlets, which would certainly add weight to the theory that it's simply been booted out by Valve - if EA wanted to make it an Origin exclusive they wouldn't have stopped at the Steam store.