A hacker group calling themselves Scriptkiddies has broken into one of Fox News' Twitter accounts and used it to disseminate fake news about the assassination of president Obama.
The group gained control of
@foxnewspolitics
,
bragging
about it on several Twitter accounts (now suspended).
They didn't stop there, though; after tweeting a suspicious message on the Fox News Politics account claiming the company had regained the control over that account, they started tweeting messages about a shooting in which President Obama was fatally wounded.
"BREAKING NEWS: President @BarackObama assassinated, 2 gunshot wounds have proved too much. It's a sad 4th for #america. #obamadead RIP," said one of the tweets.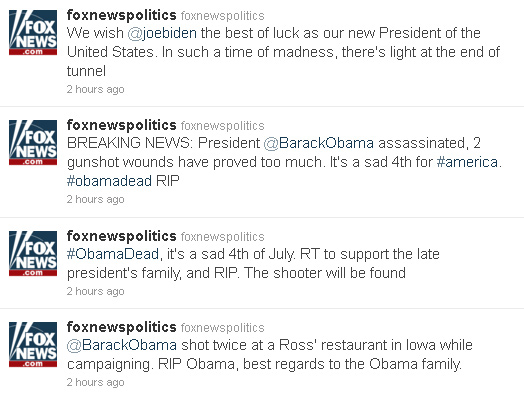 The news is obviously fake: the main Fox News account says nothing about the
shooting
, and no other agencies or media outlets are reporting anything of the sort.
This is another one in a long string of
hacking incidents
which have grown increasingly common in the last couple of months. The group that hacked Fox News' Twitter account doesn't seem to be directly related to the two hacker groups that were in the spotlight lately —
Anonymous
and the recently disbanded
LulzSec
.
We've contacted Fox News for a comment, but haven't yet heard from them.