The Beta Build is a crucial moment in the testing of
Windows 8
, and according to a third-party report, the next major iteration of Windows is very close to this development milestone.
Microsoft has yet to confirm officially a timetable for the successor of Windows 7, including sharing details with the public related to the stage reached by the operating system in terms of the development process.
Leaked information and bits that made their way in the wild have revealed that Windows 8 is currently in the Milestone 3 (M3) phase, With Build 7989 the latest to make it out of Redmond and to unofficial testers through various sources of illegal downloads, including warez websites and torrent trackers.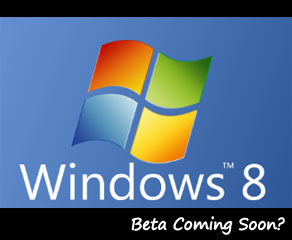 Now, new info via
MSwin
and from Wzor indicates that Microsoft is close to starting work on Windows 8 Beta. It appears that in the last two weeks in July 2011, from the 14th to the 28th, Microsoft will shift the focus toward Windows 8 Beta.
Itís critical to stress that thereís no confirmation of this from the software giant, and as such all details need to be taken with a grain of salt.
It does seem that the upcoming 2011 Microsoft Worldwide Partner Conference in Los Angeles 10-14 July will feature additional information related to Windows 8, although most likely, it will involve nothing new on top of what has already been announced.
I for one donít expect the Redmond company to share any Windows 8 bits at WPC 2011, itís just not the right audience to get a taste of the OS more than a demo can offer.
Things are bound to be different at the
BUILD conference in September
, when speculations indicate that Microsoft will share the first Beta of Windows 8 with participants. There are rumors however, of a new pre-Beta Windows 8 Build to be demonstrated at WPC 2011, although weíll see soon enough whether thereís any truth to them.
I already told you about reports that
Build 8000
holds some special significance in relation to Windows 8 Beta, although this piece of information needs to be treated with skepticism, since confirming it proved impossible so far.
But if Windows 8 Beta is to be ready in time for BUILD in mid-September, then Microsoft does need to wrap up Milestone 3 and start work on the first public preview soon.
The software giant will reportedly offer a Release Candidate (RC) of Windows 8 in early 2012, possibly in January, and release to manufacturing (RTM) the platform in April Ė also unconfirmed information.