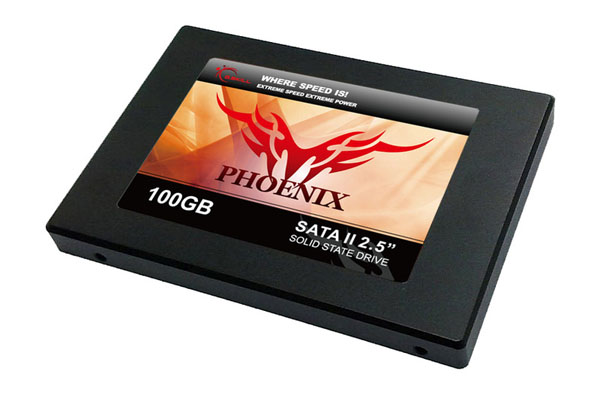 Even though it already has its share of high-speed solid state drives on sale, G.Skill decided it would once again update its Phoenix Pro Series, this time unveiling a trio composed of a 40 GB model, one with 80 GB and one with 120 GB, all of which employ the now well-known SandForce controller.
Like the peers in their series, the newcomers utilize the 2.5-inch form factor and communicate with host PCs via the SATA 3.0 Gbps interface.
All three employ MLC (multi-level cell) NAND Flash memory chips, since SLC (single-level cell) would greatly impact on the price.
Granted, the products will hardly be the cheapest of storage solutions, and the transfer speeds achievable, along with the rest of the feature set, clearly place them in the high-end market.
Fortunately, the performance of the product is actually more than decent, mostly by virtue of the SandForce SF-1200 controller, one that ranks quite high in terms of popularity among SSD makers.
To be more specific, the storage devices feature maximum read and write speeds of 285 MB/s and 275 MB/s, respectively, speeds that will definitely give the SATA 3.0 Gbps connection a run for its money.
Furthermore, the random 4KB writing performance is just as impressive, even going all the way up to 50,000 IOPS, according to the official announcement.
G.Skill's press release also hints at and "impressive performance of two Phoenix Pro 40GB drives in RAID 0."
''After impressing the G.Skill engineering team, the extremely high performance of the Phoenix Pro 40GB drives in RAID 0 offers the ultimate price : performance package, along with the additional benefits of SSDs,'' said Benson Chun, Senior Product Manager at G.Skill.
The 40 GB, 80 GB and 120 GB Phoenix Pro solid state drives will be backed by a three-year warranty but, unfortunately, have not been given prices.