DRM is the cost of PC gaming.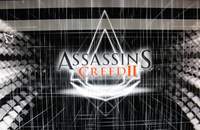 Legit PC gamers sometimes have it pretty rough when games publishers decide to lace their products with DRM schemes that are quite strict.
Gamers who have purchased Ubisoft games Settlers 7, Silent Hunter V, Assassinís Creed 2 and Assassinís Creed: Brotherhood know that a constant and reliable internet connection is required in order to play.
While this does make things harder for pirates, legit gamers who have a flakey internet connection or wish to play their games on a gaming laptop when away from a Wi-Fi hotspot are totally out of luck. Conversely, if Ubisoft's servers go down, that's also game over for players.
Despite all that, Ubisoft still sees its DRM scheme a success, and will be implementing it in its Driver: San Francisco that releases on August 30 in the US, and September 2 in Europe.
An Ubisoft representative told
PC Gamer
that the DRM scheme head led to ďa clear reduction in piracy of our titles which required a persistent online connection, and from that point of view the requirement is a success.Ē