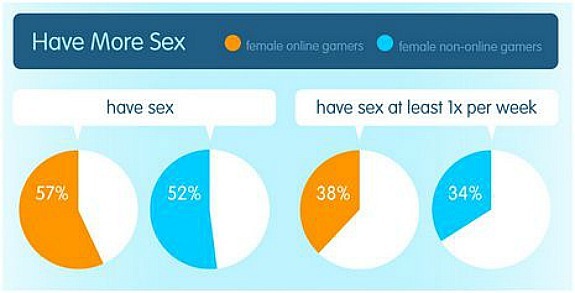 Gaming may be good for a girl's libido, her social life and her self-esteem.
Findings from an online survey of 2,132 U.S. adults conducted by Harris Interactive on behalf of social game developer GameHouse reveal that women who play games — on their computers, on social networking sites and mobile devices — have different habits and attitudes from their nongaming female counterparts.
Women represented the majority (55 percent) of online gamers in the study.
Gamers are more social in "the real world," according to the study. Forty-two percent of female online gamers socialize with friends and family in person at least once per day compared with 31 percent of
women
who do not play online games. Further, 86 percent of female online gamers socialize on social networking sites compared to 71 percent of those who do not play online games.
Gamers are no more couch potatoes than nongamers. Nearly half of each group (49 percent) said that they work out or play sports at least once a week.
Gamers also have more sex. It was also found that more female online gamers (57 percent) have sex more often than women who do not play online games (52 percent). More than half of the women surveyed (64 percent) said they were in a serious relationship (i.e. married or living with a partner). Seven out of 10 women reported they were happy with their relationship.
"It's nice to know that females who play
online games
are happy – both in their relationships and even in the bedroom," Matt Hulett, chief gamer at GameHouse, said in a statement.

Older, wiser and more fun
Respondents reported feeling happier and smarter as a result of playing online games. Fifty-five percent of women who play online games said that they are happier in their life because they play online games and 50 percent feel that online games make them feel smarter.
You won't find a majority of online gamers clubbing in Manhattan. These women are
older
and most live in the South. Sixty-four percent of female online gamers are over 35 years old and are 42 years old on average. Thirty-five percent of them live in the South, compared to 21 percent in the Northeast, 22 percent in the Midwest and an equal percentage in the West.