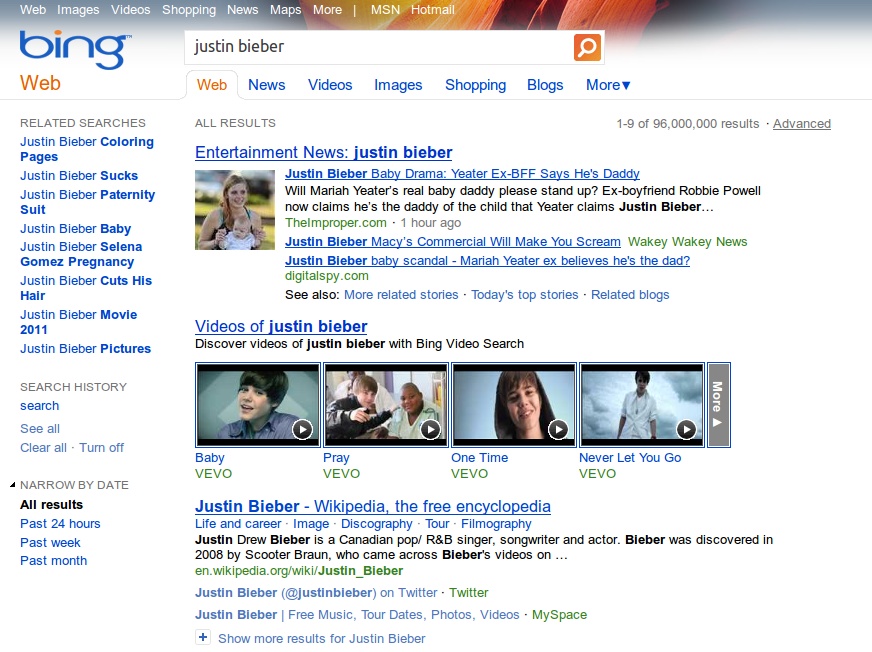 It's not even December yet, but the yearly roundups are beginning to show up. Bing is listing some of the top searches in several categories in 2011, even though there's one more month to go. But Yahoo and Google both reveal the yearly statistics about this time, so you can't fault Microsoft on this one.
Bing isn't revealing any overall top searches though, most likely because it would be the same top every year. And no, maybe "Google" isn't the top search query on Bing, for all of you snickering in the back.
Microsoft kicks off its compilation with the most searched for people of 2011. At the very top is Justin Bieber, proving perhaps that Bing has conquered the pre-teen demographic, or, alternatively, that Bieber is really going mainstream. He was in the sixth spot last year.
However, six people from last year's top 10 are nowhere to be seen in 2011. Barack Obama went from the fifth most searched for person on Bing in 2010 to to number 49 this year.
When it comes to news stories, the Casey Anthony trial took the number one spot and not even Osama Bin Laden's death was able to get people more interested.
The most searched for musician of 2011, according to Bing, is, well, Justin Bieber, who else? He is followed by the likes of Katy Perry, Jennifer Lopez and Britney Spears.
Another interesting category is consumer electronics. Can you guess which Microsoft-built device was the most searched for on Bing?
That's right, Xbox claims the top spot followed by Amazon's Kindle and the Playstation. The iPhone 5 and the iPad both make an appearance and so does Windows Phone 7.
Bing fans, though, don't seem to have much love for Android since it didn't even make it in the top 10. Microsoft has even more categories listed in its
blog post
, most popular reality TV stars, the top 10 movies of the year and so on.