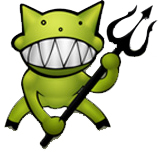 After failing to acquire Pirate Bay now Hans Pandeya also steps away from Demonoid
In 2009 there was a lot of fuss around Global Gaming Factory's (GGF) announcement that it was going to pay $7.8 million to acquire The Pirate Bay.
Eventually, it proved to be much ado about nothing as CEO Hans Pandeya didn't manage to raise the necessary money in due time. The idea was to turn all those illegal file sharers that had become loyal users or members of the file sharing site into honest customers through a legal media store that TPB was to become. I guess that just didn't happen!
However, Pandeya's ambitions seem in no way shorter (or they do?) as the entrepreneur didn't give up his intentions of buying a popular torrent tracker and is now trying to acquire semi-private Demonoid tracker. Finally, he did manage to put aside some funds for such an acquisition:
"I have finally managed to get some funds in place and want to acquire Demonoid and some other sites to execute my plans. I lost a year and a fortune due to Aktietorget's [the equity marketplace] acrobatics during my attempt to acquire The Pirate Bay in 2009 but I think it is still not too late to acquire and convert torrent sites."
But however big Pandeya's plans might be with converting file sharing site into a profitable business, Demonoid, on the other hand doesn't put itself up for sale. According to TorrentFreak, the site's owner doesn't fancy the idea of selling Demonoid which makes us curious just what's the next door Pandeya will be knocking at.