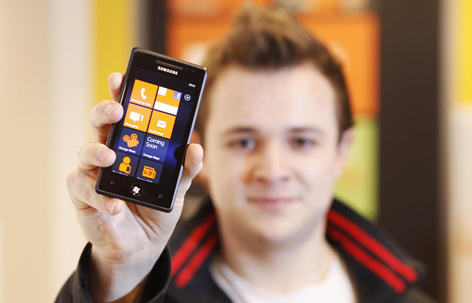 Open... and Shut Microsoft, which has suffered
years of irrelevance in mobile
, has a new game plan, which looks suspiciously like its old game plan: pay retail employees to sell Windows.
Microsoft isn't alone in trying to find incentives with partners to unseat Apple, but the bluntness of its approach will irk many as classic Microsoft. With a
reported budget of $200M to spend in the US alone
, and Nokia doubling Microsoft's spend with AT&T, this may be Microsoft's best chance yet to finally convince mobile users to give Windows a try.
Back when people were wedded to their computers, Microsoft paid partners to ensure they were faithful to Windows. This strategy was especially useful during the dark days of Vista, when
Microsoft pulled out all the stops
to incentivise OEMs and others to ship the ill-fated operating system. Other incentive programmes
continued through Windows 7
, and extended to
other products like Microsoft Dynamics
, and will likely continue forever.
At Microsoft, financial incentives to use and distribute its software are eternal.
It's therefore not surprising that Microsoft would spend money convincing partners to distribute and market Windows Phone 7. What is surprising is that it's not spending even more. And that it took so long.
Back in June 2011, Microsoft's Windows Phone product manager, Greg Sullivan,
insisted
that the Redmond giant wouldn't be offering financial incentives to retail sales staff to promote Windows Phone 7 devices. Just five months later, Microsoft was
advertising Windows Phone Channel Marketing positions
that describe "RSP [Retail Salesperson] Sales Incentives".
How much in incentives?
According to Paul Thurrott
, Microsoft will pay retail employees $10 to $15 per Windows handset sold.
That's a lot of money, and may move the needle in Microsoft's favour.
Not that Microsoft is completely alone in this strategy. Google, after all, bought much of Android's early success by
sharing search revenues with partners
who agreed to ship Android devices. Open-source Android wasn't free: it was better than free to carriers and device manufacturers who otherwise had to pay Microsoft or Apple hefty fees for each device.
Not just up-front fees per device, either, but in the case of AT&T, it's
reportedly
paying Apple $18 per subscriber per month. AT&T, in turn, allegedly tries to make up such fees by overcharging its subscribers by as much as 300 per cent for data usage,
according to a new lawsuit
.
Compared to Apple, free money from Microsoft and Google must look pretty good to the carriers.
That is, if they can sell Windows phones. They've already demonstrated an ability to sell Android devices a'plenty. Microsoft seems to think a little grease with retail salespeople can make Windows pay in mobile, just as it did on the desktop.
Not content to subsidise the lifestyles of retail employees, however, Microsoft is also continuing its slash-and-burn patent strategy against Android. Microsoft has been seeking
as much as $15 per Android device sold from Samsung
and others, totaling as much as $444m for Microsoft,
according to a Goldman Sachs report
.
Google calls this "extortion," and it may be right. But $444m goes a long way toward subsidising Microsoft's Windows Phone 7 marketing incentives, and may be just enough to give Microsoft a fighting chance in mobile. It's not pretty, and is a poignant reminder of how ugly Microsoft will sometimes fight to win. But it may succeed, all the same.