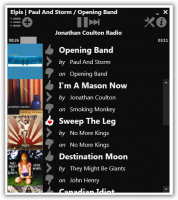 Lightweight program frees
Pandora
from your browser so that you can listen to Pandora
streaming radio
from your desktop with nearly all the features, functions, and controls available on the full Pandora.com site. Sure you can use a
browser to control
Pandora
, but that also means you constantly have to remember to keep it running in an open tab, and heaven forbid if you close it accidentally. Running Pandora in a browser can also mean sometimes significant memory usage depending on what browser and what extensions you use. That's why the desktop client
Elpis
is so intriguing.
"Elpis is a free and open source
Pandora
client for Microsoft Windows," notes developer Adam Haile. "It was created to provide a simple, lightweight and seamless way to enjoy music through Pandora while freeing you from the confines of a web browser and integrating into the desktop."
Once you login with your Pandora.com username and password, Elpis gives you all the features, functions, and controls you already enjoy in the browser on the full Pandora.com site like play, pause, skip, and thumbs up thumbs, thumbs down, tired of song. It displays album cover and artists art and you can create customized radio stations just as you're able to on Pandora.com.
Right-click on an artist and you can bookmark the artist and song or create a radio station based on either.
More features include:
Simple desktop application for subscription and free accounts
View, Sort and Select Stations
Save user credentials and automatic login
Automatically play last station at launch
System tray notification with song info
Minimize to system tray
Launch Pandora.com info page for song, artist, album and station
Automatically reconnects on session timeout (no more "Are you still listening…")
Edit QuickMix
Create Station from playing Song/Artist
Add new artist, song, or composer seed to current stations
Media Key support (Global and Application level)
There's always browser extensions like
Pandora for Chrome
, but a standalone desktop client makes Pandora become a sort of personal jukebox that you can run and control on your own terms, and at the same time free up some memory for other – perhaps more important – tasks.
Elpis is for Windows, but there is a version called
Pithos
that's available for Linux (sorry Mac users).