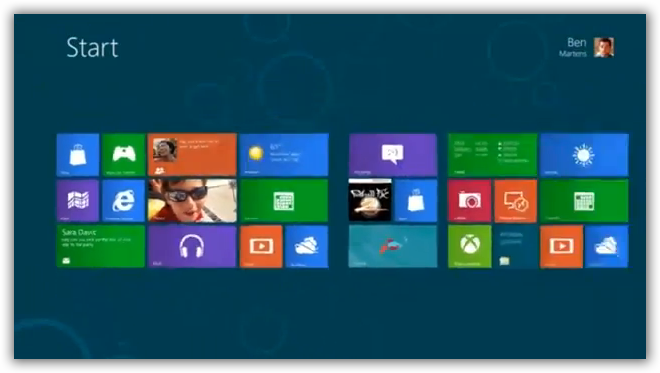 Microsoft officially releases Windows 8 Consumer Preview, giving Windows users a chance to take an early test drive of the forthcoming new edition of the Windows OS for themselves. Just when Windows users grew comfortable with Windows 7, and the bad memories of Windows Vista were almost forgotten, today Microsoft quietly announced the release of the
Consumer Preview
for its latest and greatest version of Windows – Windows 8.
The release comes on the heels of the Developer Preview it made available late last year, and is intended to secure a "more robust experience" for testing the new OS by making it available to the public.
Windows 8 does away with all the standard traits of a Windows OS like taskbar, Start menu, and more, opting instead for an entirely different user interface that uses tiles that link to important tasks, programs, and services. The move is intended to create a uniform user experience across multiple devices like laptops, phones, tablets, and desktop PCs.
"With Windows 8, we reimagined the different ways people interact with their PC and how to make everything feel like a natural extension of the device, whether using a Windows 8 tablet, laptop or all-in-one," said Steven Sinofsky, president of the Windows and Windows Live Division at Microsoft. "The Windows 8 Consumer Preview brings a no-compromises approach to using your PC."
Some of the new features of Windows 8
include
Ability to take apps and settings across multiple PCs, making it easy to discover and try new apps while offering developers the greatest opportunity of any platform.
Seamless content integration across devices.
Microsoft account provides access to a host of features, including the ability to roam all settings, use cloud storage, communicate with email, calendar and contacts, and connect to a broad range of services.
Re-imagined Internet Explorer 10 to create a new experience designed specifically for Windows 8 devices. It provides an edge-to-edge user interface that is all about less browser and more Web. Fast and fluid, Internet Explorer is hardware-accelerated to enable Web performance.
Right-click app uninstall.
Windows 8 Consumer Preview
comes as a .ISO file, and Microsoft offers a separate
Windows 8 Consumer Preview Setup
.EXE file that will scan your PC to determine which download is right for you.
I recommend creating a temporary separate partition to install it on or using
VM Ware
before you commit to a full installation.