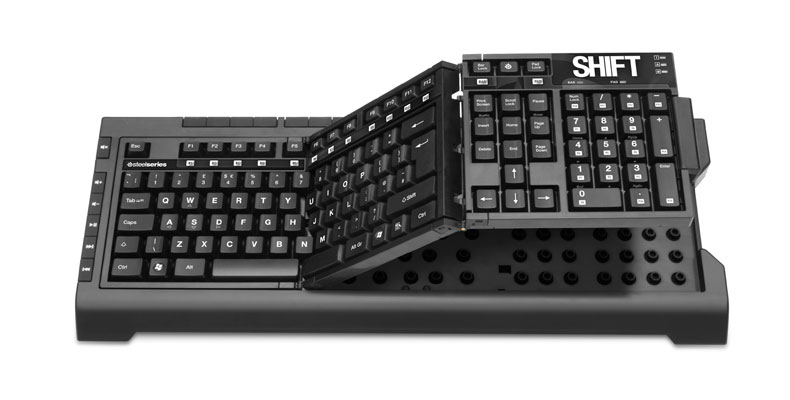 Though all keyboards are meant for the same thing, there are quite a few different designs and technologies that give them varying degrees of uniqueness, and SteelSeries took a fairly radical step when it put together the Shift.
There are several features that make this product stand out more than others, the extra wide feet and wrist rest with rubber to prevent slipping arguably being the least of them.
One of the major assets is that the Shift has, as unusual as it may or may not sound, has three height levels that the keys can be raised to.
The other interesting aspect is the possibility of replacing the premium plastic keysets, and this let one customize the keyboard according to their own preferences.
The Shift gaming peripheral also boasts on-board memory, for storing up to 3 layers of on-the-fly macros.
There are also media keys on top and on the side, gold-plated audio and microphone 3.5mm ports and a pair of USB 2.0 connectors.
What's more, SteelSeries threw in an anti-ghosting capability that can allow for up to 7 simultaneous key strokes.
"With the introduction of the SteelSeries Shift, we're able to bring another unique and powerful gaming tool to consumers, said SteelSeries CEO, Bruce Hawver.
"The Shift greatly expands the functionality and concept of the original Zboard, which joined our product line in 2008 as a result of our acquisition of Ideazon, with new SteelSeries features that will provide gamers with a keyboard experience that can be customized for all types of games," he added.
"As we bring the SteelSeries Shift to market, we are continuing to work with the best developers and publishers in the games industry to offer player's unique layouts and functionalities that will enhance their entire gaming experience," the CEO went on to saying.
Priced at $89.99 (89.99 Euro), the Shift can take advantage of replacement key sets with a tag of $24.99 (24.99 Euro in Europe).