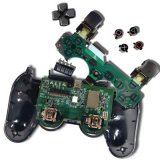 The PlayStation 3 video game console has received this week a new firmware upgrade, 3.50, which enables 3D Blu-ray playback as well as an array of other things, but also blocks the use of third-party PlayStation 3 controllers, according to a recent report.
As you can imagine, quite a few PS3 users have started complaining, as their controllers didn't register with the console and they weren't able to use it, unless they had an official DualShock 3 controller.
Sony claims that it did the right thing though, and released a statement saying that unlicensed third-party PS3 controllers were extremely dangerous.
Since the company cannot control the quality of these counterfeit devices, it has taken the decision to disable such support through the firmware update.
In the statement, Sony goes as far as saying that the unlicensed controllers exploded and resulted in serious injury to both the user and the PlayStation 3 console.
"SCEA advises consumers to be cautious when buying PlayStation 3 wireless controllers from uncertain sources as the quality, reliability and safety of counterfeit products is uncertain, and in some cases, may be dangerous."
"It is possible that some counterfeit product may ignite or explode, resulting in injury or damage to the user, your PlayStation 3 computer entertainment system, or other property."
Sony specifies that only third-party controllers which were unlicensed with the company and worked via a USB dongle have been affected by the 3.50 firmware.
Devices that were licensed by the company have not been affected, as they were proven to be safe for the customer through an array of testing procedures conducted by the Japanese company.
Besides this interesting fact, the 3.50 PS3 Firmware packs quite a lot of features, including the aforementioned Blu-ray 3D playback, better grief reporting and enhanced integration for popular social network Facebook.