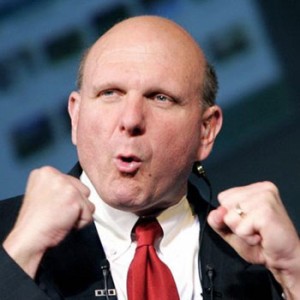 Steve Ballmer received only half of his bonus at the end of the last fiscal year, on June 30, 2010, because the Compensation Committee considered that the Kin phone was a failure and the loss of market share in the company's mobile business was too important.
Everybody knows Steve Ballmer, Microsoft's CEO, at least since he replaced Bills Gates two years ago.
Even if Microsoft established a record this year with $62.5 billion in revenue, Ballmer got blamed for "the unsuccessful launch of the Kin phone, the loss of market share in the company's mobile phone business and the need for the company to pursue innovations to take advantage of new form factors."
So, as 'punishment', the Compensation Committee did not award him his possible 200% of the base salary bonus, but only 100%, meaning 'only' $1.34 million as annual compensation.
If we consider Microsoft's profit, Ballmer's annual bonus seems like crumbs, but the market share of Windows Mobile did get to 5%, which is half less that last year and the unsuccessful experiment of the Kin phone only added to the frown.
The
AppleInsider
said that the reason behind this 'small' annual compensation is "that the committee compared Ballmer's performance in the mobile space to Apple CEO Steve Jobs' recent successes."
As for the Windows 7 Phone, well maybe it should not be buried too deep, as Microsoft has already updated its Zune, Xbox Live, Hotmail and Office Mobile franchises for the mobile experience.
Also, Samsung and Sony Ericsson have announced that they are stepping away from Symbian while choosing the Windows Phone 7 OS.
Besides, there are all sorts of rumors circulating about the big launch of the Windows Phone 7, October 11, as well as about the number of headsets that AT&T would have (allegedly) ordered, and you know the risk with rumors.
And according to Gartner predictions, Windows Phone market share will jump from 4.7 percent this year to 5.2 percent in 2011, then slip away to just 3.9 percent market share in 2014.