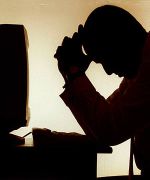 Although this news is not necessarily related to file sharing and social networking in the way we're used to, it does have a rather macabre connection to these two, one we couldn't ignore and had to report.
After advertising his own suicide on an online forum, a young Swedish man turned his death into a online social event by hanging himself in a live web broadcast,
The Local
reports.
21 year-old Marcus Jannes had made his intentions known through a post at 11:51 a.m. local time. He also provided potential morbid voyeurs with a link and a password to a file-sharing site so they could watch him carrying out the terrible plan live.
In a few words Jannes suggested what was perhaps the main reason for his death wish. At 1.02pm local time he wrote: "Have Asperger syndrome / high-functioning autism. Am overly vulnerable (emotionally) … Have really poor social skills, which make me a somewhat lonely person."
Some minutes later the young man appeared on camera wearing a Nike "Just Do It" t-shirt and wrote: "alright let's do it." Unfortunately, police were alerted too late, at 1:44 p.m when nothing could be done anymore to save Jannes.
Expressen newspaper quoted police spokeswoman Lotta Thyni: "Police performed CPR until the ambulance arrived, but his life could not be saved. We can only regret that people who knew that he planned to kill himself did not act to save his life."
This is not the first case of this kind – similar "cyber suicides" have been reported in Japan and Britain and it's awfully sad how lack of real sociability and communication between people can lead to this surrogate for interaction in a last desperate attempt to reach other fellow beings and with nothing to share but pointlessly their own death for a few seconds. People's lives and reality altogether are sometimes virtualized till the point where one single click can satisfy your need for adrenaline in a violent video-game or the morbid curiosity for a real death desensitized by the screen of a computer.