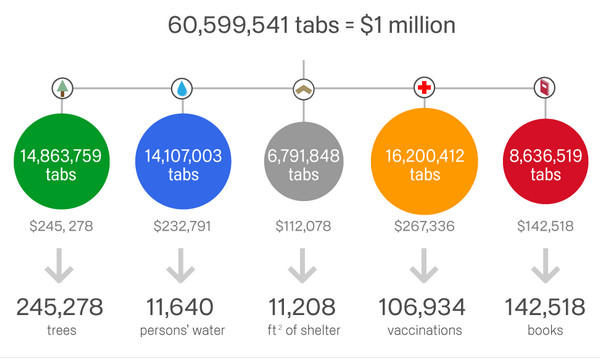 Google's Chrome for a Cause extension/experiment ended at midnight last Sunday, and Google has shared the results of its donation campaign. The maximum amount that they were willing to give to charities was set at $1 million, and it was reached.
60,559,541 (yes, that's more than 60 million) tabs were opened by those who had installed Chrome for a Cause in the four days that it counted. This number of tabs apparently amounted to raising $1 million (Google never mentioned how much each tab was worth), so it looks like each tab you opened, while having the extension installed, resulted in a contribution of about 1.65 cents.
Since you were able to choose which charity the money you helped raise would go to at the end of each day, here's how the $1 million will be split: $245,278 will go to planting trees in the Atlantic Forest, an endangered Brazilian tropical forest; $232,791 will help get clean water for communities in developing nations by building wells; $112,078 will help build shelter for poor families in Latin America; $267,336 will fund vaccinations against meningitis in Africa; $142,518 will go toward publishing books by local writers and illustrators, that will be donated to schools and libraries in Africa and Asia.
The donations will be made at the end of the year. You can keep the extension installed and, if so, it will notify you about future opportunities to work together with other Chrome users for good causes.