The
PlayStation 3 hacking
debate continues, even after Sony tried to patch up the vulnerabilities of the system through firmware updates, as the team that hacked the Nintendo Wii many years ago, fail0verflow, has just revealed that it has obtained the PS3's "private cryptography key."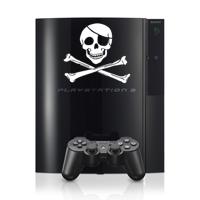 For those of us less technically-inclined, it is basically the master skeleton key for the whole system, and allows complete control over the Japanese console.
This key will enable hackers to run their own code and applications on the PS3 as well as install any Linux-based operating system, the actual goal of the team.
Sadly, as you can imagine, the discovery of the master key also leaves the door wide open for people to run pirated games on the console and use it for other nefarious purposes.
Speaking at the 27th annual Chaos Communication Conference, the hacking team details the whole process of finding the key, and says that the fault belongs entirely to Sony's programmers, who achieved an "epic fail" by not putting a random key generator inside the console, in order to prevent the vulnerability.
The whole PlayStation 3 hacking scandal began quite a long time ago, when a reputed hacker bragged about being able to exploit the old PlayStation 3's Other OS feature, which allowed owners to install Linux on the machine.
Sony acted fast, and the feature was deleted through a firmware update and through the release of the PlayStation 3 Slim.
That didn't stop hackers, as the first PlayStation 3 Jailbreak appeared late this summer, with hackers using a special USB dongle to force the console into service mode and run pirates games and homebrew applications.
Sony countered with two firmware updates
3.42
and 3.50, which patched the vulnerabilities.
This was beaten once more by hackers, who managed to force the console to
downgrade its firmware
to the older 3.41 version, which allowed jailbreaking.
Last we heard, Sony's
3.55 firmware
eliminated that other vulnerability, and hackers were pretty much defeated.
Now, thanks to this new effort, it seems that the PlayStation 3 has been thoroughly defeated, unless Sony comes up with a way to patch this incremental oversight.
If you really want to know the specifics of the discovery and what its implications are, check out the complete 44-minute presentation below, and expect proof-of-concept videos to appear in the near future.