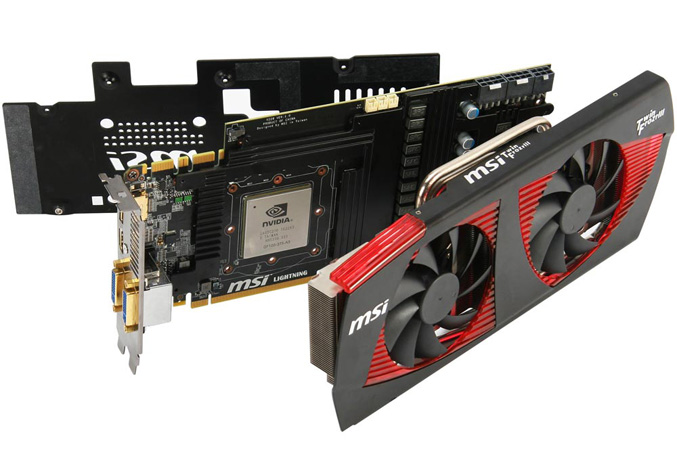 Although the GTX 580 has become the fastest performing video card in Nvidia's arsenal for quite some time now, it still seems to be some life left in the "old" GTX 480 as MSI has just announced that their N480GTX Lighting has become the fastest single GPU in 3DMark 11.
MSI's card managed to surpass the previous
world record
during the 3DMark 11 Overclocking Challenge, that was jointly organized by the company in collaboration with Futuremak.
After a month of competition, an overclocker that goes by the name of Elmor, managed to achieve P9277 points, just surpassing the previous world record of P9213 set by a GeForce GTX 580.
In order to achieve this result, the card was cooled with liquid nitrogen and its core and memory frequencies were set at an impressive1375/5200MHz.
When compared to a standard GTX 480, which is clocked at 700/3696MHz, this represents almost a 100% core and 40% memory overclock.
Outside of the
MSI
built graphics card, the rest of the system was comprised of a six-core Intel Core i7-980X processor, an Asus Rampage III Extreme motherboard, and 6GB of A-Data memory setup in tri-channel mode.
As it's usually the case with such world record machines, the CPU was also overclocked from its standard 3330MHz operating frequency to 4259 MHz, representing a 28% speed increase over stock.
"MSI has always focused on developing high performance and high quality products," said Jason Lee, MSI's director of Component Marketing.
"Unique MSI features such as the Power4 architecture, Twin Frozr III thermal design and Military Class components in the Lightning series have now been proven through Futuremark's latest global 3DMark 11 OC Challenge.
The great design and components used for MSI' top-end
graphics card
were what made a new 3DMark 11 world record possible," concluded the company's rep.
A link to the result is found
here
.