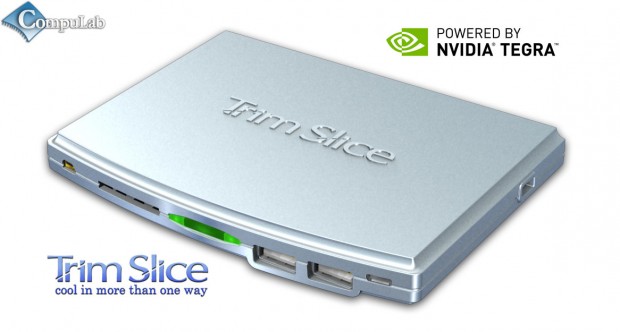 The TrimSlice is a mini-PC with a mission: to be amazingly small and light and feature TV-in and a number of useful and surprising outputs. It is, in short, one of the coolest kiosk or dedicated use PCs I've seen in a long while.
The Tegra 2 chip is housed in a thin, fanless case with stereo line in/out as well as HDMI out. It can hold a laptop hard drive and runs 1GB of DDR2 memory. It has four USB ports, SD and MicroSD readers, and even a freaking Ethernet port. If I weren't worried about processing power, I'd say it would make a great
HTPC
. No pricing, but it won't cost very much, that much is sure. Click through for full specs.
Specifications:
CPU: NVIDIA Tegra 2 Dual Core ARM Cortex A9 1GHz with integrated ultra-low power GeForce GPU
Memory: 1 GB DDR2-800
Storage:
Full size SD (SDHC)
Micro SD (SDHC)
SATA SSD (up to 64GB)
Networking:
1 GbE
WiFi 802.11n + BT
Display: HDMI 1.3 full-HD + DVI (dual head)
Audio: Stereo line-out, line-in, 5.1 digital S/PDIF
Video in: PAL/NTSC
I/O:
4 USB2 ports (480 MBps)
1 USB device
RS232 Serial port
Extension: JTAG, 2 UARTs, SPI
Housing: Fanless all-metal nickel-plated die-cast
Dimensions: 130mm x 95mm x 15mm – 5.1" x 3.7" x 0.6"
Power: 8-16V DC, 3W average