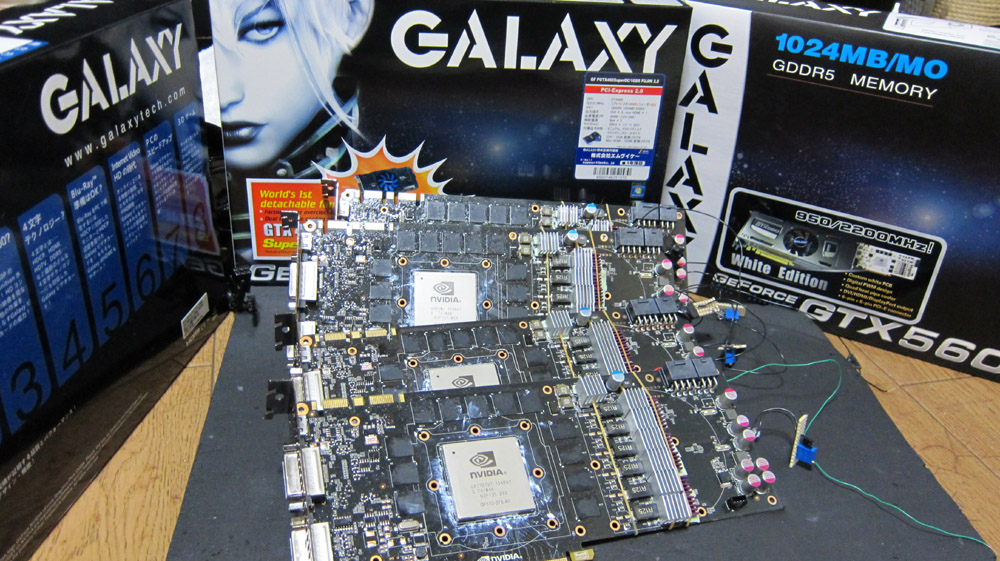 Benchmarks are the widely-accepted means of determining a hardware product's prowess compared to others of its kind, and since records always speak well of certain models, Duck decided to go ahead and break one for a change.
When testing a central processor, memory products or the video card, different benchmarking applications are best suited for each.
In the case of graphics boards, the current most well-looked upon software is the one known as 3DMark Vantage.
Not long ago, Galaxy Tech conducted an event in which a certain overclocker, who likes to call himself Duck,
did more than just play
with four GeForce GTX 580 NVIDIA Cards.
The overclocker took them and placed them on an EVGA Classified SR-2 dual-LGA 1366 motherboard.
Said mainboard was already running a pair of Intel Xeon E5680 Westmere-EP CPUs, which are both 6-core models with 12 threads.
Those processors were clocked at 5368 MHz and backed up by 12 GB of DDR3, available in the shape of six Corsair DDR3-2000 MHz CL7 modules of 2 GB each.
Meanwhile, the Corsair AX1200W and SilverStone Strider Gold SST-ST1200G power supplies, each providing 1,200 W, kept the whole machinery running.
With an Intel X25-M 80 GB SSD to provide the storage space, the four boards in 4-way SLI setup managed to score the new record of P75324.
Needless to say, a serious amount of 'special' cooling methods were necessary, those being Duck's very own JCA Water Bear Pot WB02A, plus the K|ngp|n F1 (for the two processors), while the GPUs were handled by K|ngp|n Tek9 4 and 5.0 (a heatsink cluster was extended over the VRM and GPU).
What remains to be seen is how long it takes for even this record to be broken. Seeing as how it is unlikely for any single-GPU video card stronger than GTX 580 to debut in the near future, such a feat may be a long time coming.