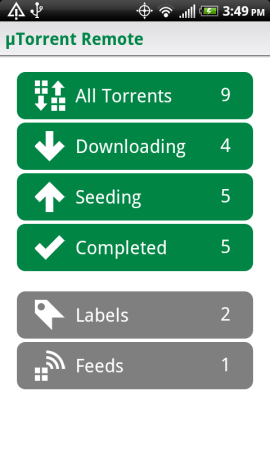 Bandwidth caps are only part of the reason that torrenting has yet to hit mobile devices in a big way, but that hasn't stopped them from trickling into the portable world. Today
BitTorrent, Inc.
announced remote control app
uTorrent Remote
that lets you manage your desktop's torrents from your Android device, and stream completed audio and video torrents back to your device.
Originally mentioned last month at CES
, uTorrent Remote will only work with the
next generation version of uTorrent
, currently available only as a rough alpha.
The Android app adds basic torrent remote controls to your phone. You can check the status of a download or upload, and add, start, pause, or remove torrents, including torrents from RSS feeds. The big feature that makes this app a must is that it allows you to transfer, save, and play back any completed file from your PC to your Android device. In other words, there goes your data cap.
To use it, after installing uTorrent 3.0 alpha you must go to the Web section of the uTorrent preferences and choose a username and password, then enter those in to the uTorrent Remote app. The app comes with buttons for viewing all your torrents, and then filtering by active downloads, currently seeding, and completed torrents. You can customize labels for your torrents, and add RSS feeds--an excellent way to stay on top of podcasts, for example.
Tap on a torrent and you're provided with a detailed list of torrenting information, including status, download and upload speed, size of the files, and the amount downloaded. Controls at the bottom are for canceling the torrent, pausing it, and viewing the files. Tapping the folder icon takes you to a list of the files in the torrent, and you can select on the fly which ones to copy to your phone. Once you've copied it to your phone, a process that depends heavily on signal strength and the size of the file, the icon changes to a playback arrow.
Note that just because you can transfer the file to your phone doesn't mean that your phone has the ability to play it back, and uTorrent doesn't include a file conversion tool.
As a side note, uTorrent's parent company, BitTorrent, has also been promoting its free content site
Vodo
as a place where people can get legally distributed torrents. All this combined with hardware partners for later in the year indicates a strong push from BitTorrent to convert the torrent from a tool of theft in the eyes of many to an expedient way to get content.