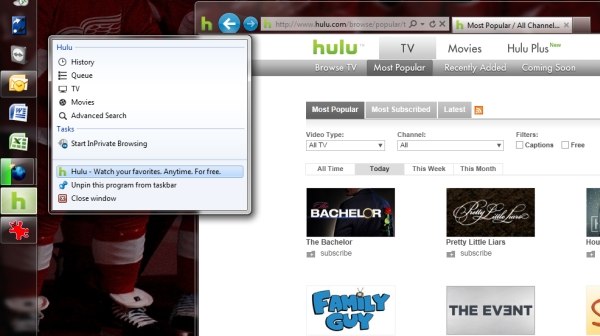 In a bit of Microsoft/Hulu cross-promotion, Hulu is offering
a free month of its premium Hulu Plus streaming video service
to users of Internet Explorer 9. To qualify, you just have to
download IE9
and use the new taskbar pinning feature to pin Hulu.com to your Windows Taskbar.
If you pin
Hulu
, you'll see the free Hulu Plus offer appear in your
IE9 jump list
starting on March 28th. Hulu is currently only available in the U.S. (although there are unofficial workarounds), so there are no guarantees that international users will get any use out of the offer. Looks like a smart way for Microsoft to up the adoption rate of IE9 and Hulu to get users hooked on its Plus service.