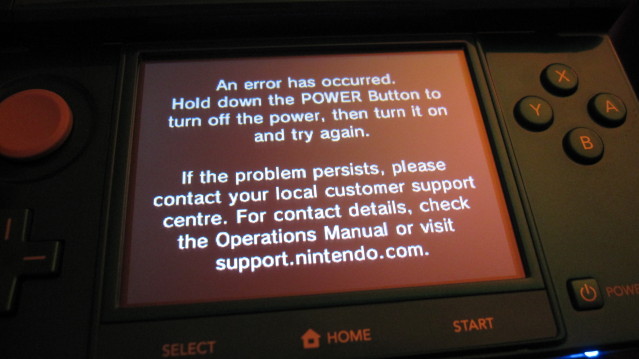 Barely has the
Nintendo 3DS
been out in Europe and North America and already owners of the new handheld are complaining that the device is plagued by a serious error in the form of the so-called Black Screen of Death.
According to members of the
NeoGAF forums
, their new Nintendo 3DS consoles have begun displaying the error message you see in the image attached to the article.
The error message is quite peculiar and has caused lots of new owners to call Nintendo support.
"An error has occurred," the message reads. "Hold down the Power button to turn off power, then turn it on and try again. If the problem persists, please contact your local customer support center."
If you don't know how to get in touch with customer support, the error also advises owners to check the operations manual or go online.
What's more important is that the error seems to be quite frequent and doesn't have
a concrete cause
.
Some owners have said that the error was displayed after playing Super Monkey Ball 3D, while others said that it happened during Super Street Fighter 3D or Ghost Recon: Shadow Wars.
As of yet,
Nintendo
hasn't revealed any data about how and when this error occurs, so new Nintendo 3DS owners are left in the dark.
This black screen of death error joins existing ones like the Xbox 360's Red Ring of Death or the PlayStation 3's yellow light of death, but these errors indicate complete hardware failure, and can't be solved by turning the console off and on again.
Perhaps Nintendo can issue a system firmware update in the future to help with this problem, but, up until now, only one new software version was released, which just added a special video of 3D nature scenes, skydivers or fireworks.