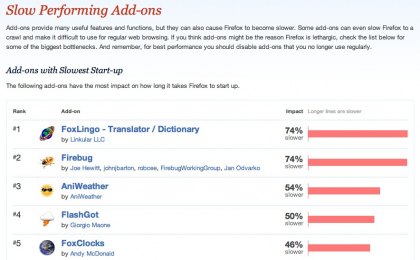 Mozilla has revised its plans to
'encourage' developers to speed up their Firefox add-ons
after plenty of feedback in the week since the initial announcement. One change is that only the add-ons that have a big impact, adding over 25 percent to Firefox's startup time, are displayed in the new '
list of shame
.'
Mozilla won't start displaying warnings for slow add-ons just yet, as it needs to make sure that its testing suite is more accurate than it is now.
But the organization isn't backing down, it's just adjusting its plans, it still wants add-on developers to focus more on performance.
"Just over a week ago we announced our add-on performance initiative and have received lots of feedback from add-on users and developers," Justin Scott, add-ons program manager for Mozilla,
writes
.
"Thanks to our awesome community, many developers have updated their add-ons to have faster start-up time, and others have dug into the results and filed bugs to help us improve our testing framework," he explained.
Initially, Mozilla introduced a list of how much popular add-ons slowed down Firefox, sorted by how much of an impact they had. But the organization has now adjusted this and is only displaying those that have the biggest impact.
Mozilla has also changed the wording on the page, which used to say "slowest," to "slow." This is because the add-ons are not technically the slowest, they're the slowest from the most popular add-ons that have been tested.
When it made the initial announcement, Mozilla also said that it will start displaying warnings for the really slow add-ons, which add 25 percent or more to the Firefox startup time, but since its testing is not yet perfect, it has delayed the move.
"As we said in the announcement, this is only the beginning of our work to improve and educate about add-on performance, and we'll continue improving our tools and documentation to help developers," Scott wrote.